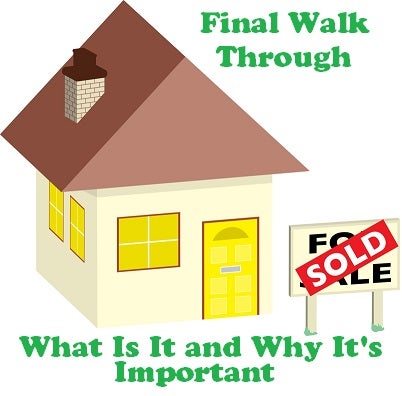 Later today I will be accompanying my Buyers on a scheduled final walk through of the home that they are about to take possession of tomorrow.  
The primary purpose of a final walk through is to make certain that the property is in the condition in which it was agreed to be in for the completion date.  This inspection is usually quite brief and is done immediately before the deal is completed, often the day before.  
Buyers often ask if they really need to take the time to complete the final walk through as they can feel pressed for time as their closing draws near.  But there are issues that can arise, and this walk through gives the buyer an chance to address anything unforeseen in advance of the transfer of funds. 
The walk through is not intended to identify issues, but rather to ensure that the condition is as it was negotiated.  
Here are a few things to look for: 
1. Ensure all inclusions are on the premises as in the contract, for example the fridge and stove. 
2. Ensure no new damage has been done to the building. 
3. Ensure that the seller hasn't left you with unwanted items. 
4. Ensure that the seller hasn't left the house in disrepair or filthy with garage. 
5. Ensure the seller is going to be vacating without issue.
6. Ensure systems are all working. 
7. Ensure that the yard has been kept and maintenance upheld.
All and all you are looking to ensure that there will NO surprises on the day of close. 
#LoveWhereYouLive